Death of Jacques Demaille (03/01/2023)
Born in Algiers in July 1939, Jacques Demaille was one of the fathers of the French genome program. As a physician and researcher, he left his mark on medical research in Montpellier. After a stay in the United States in the laboratory of Edmond H. Fischer's laboratory in the United States, where he won the Nobel Prize in Physiology in 1992, he directed the Centre de Recherche en Biochimie Macromoléculaire (CRBM) from 1983 to 1997 and founded the Institut de Génétique Humaine (IGH) in 1998, which he directed until 2002. He was also president of the University of Montpellier and director of the CNRS Life Sciences Institute. He will be remembered as a passionate, inspiring and outstanding builder. 
Amphitheater of Genopolys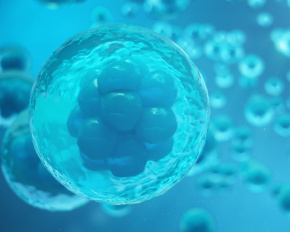 embryogenèse précoce
Early embryos show signs of genomic instability as well as the presence of mutations whose origin was unknown until now.
In this article, published in the journal Nucleic Acids Research, scientists were able to identify a molecular mechanism responsible, and showed that it is the DNA damage tolerance system, which could also contribute to variations in genetic background between individuals.
Read the publication in the journal Nucleic Acids Research
Genome Surveillance and Stability
The "3D Organization of our Genome" video
A video illustrating the organization of the genome in 3D has been released by the Cavalli team. The video summarizes the current understanding of genome organization in the three-dimensional space of the cell nucleus. It illustrates the different layers of chromosome organization, from nucleosomes, which envelop 146 base pairs of DNA, to chromosome territories, which can contain hundreds of millions of base pairs of DNA sequence. Between these two extremes, the hierarchical folding of the chromatin fiber into "nucleosome clusters", "chromatin nanodomains or CNDs", "Topologically Associating Domains or TADs" (including their formation mechanism via loop-extrusion) and "Compartments A and B" are presented.
In the description of the video, references can be found that complete the content.
Team website page >>

Thanks to :
Fred Bantignies, IGH, CNRS et Univ. de Montpellier, France
Quentin Szabo, Dept Mol Life Sciences, University of Zürich, Suisse
and also :
Arkitek Scientific
Chromatin and cell biology
New challenges in HIV research
Forty years after its discovery, HIV/AIDS has become a chronic disease thanks to triple therapy. But it still resists being cured and the vaccine is still awaited...

Monsef Benkirane, virologist at the Institute of Human Genetics, takes stock of the new research challenges.

Read the full interview

Axel Kahn "being human"
In tribute to Axel Kahn who passed away on 6 July 2021, the IGH looks back on a rich day during which Axel Kahn honoured us with his presence.
On April 15, 2016 Axel Kahn spoke at the Genopolys amphitheatre as part of the Citizens' Days. The conference inaugurated the EUREKA cycle, with a reflection on the human being, this animal endowed with reason.
Open Group Leader Position
The Institute of Human Genetics of Montpellier (IGH) opens a call for applications to a Principal Investigator position in its main areas of interest, namely Genome Dynamics, Genomics, RNA Biology, Computational Biology and AI, Epigenetics, Immunogenetics, Developmental Biology, Cancer and Infectious Diseases.